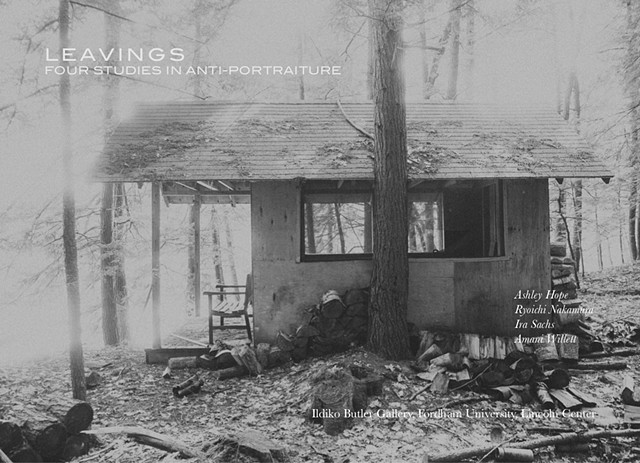 Leavings: Four Studies in Anti-Portraiture. Featuring Ashley Hope, Ryoichi Nakamura, Ira Sachs, and Amani Willett
LEAVINGS
FOUR STUDIES IN ANTI-PORTRAITURE
ILDIKO BUTLER GALLERY FORDHAM UNIVERSITY
MAY 29 – SEPTEMBER 13, 2019
RECEPTION: Thursday, SEPTEMBER 12, 6–8 pm
In a sense, all portraits are a depiction of absence: Their very presence as a stand-in for the individual they represent points to this fact. Featuring works whose subjects exist both here and elsewhere, Leavings: Four Studies in Anti-Portraiture takes this idea to its most logical extreme with four contemporary artists who investigate the lives, identities, and movements of people who have gone missing yet are anything but absent.
Combining text, maps, and photographs, Amani Willett's project The Disappearance of Joseph Plummer is a freeform investigation of an eighteenth-century hermit who intentionally went off the grid in a wooded area of rural New Hampshire. Local townspeople built a mythology around Plummer that exists to this day. In atmospheric images that are as much about a lack of information as they are about discovery, Willett locates Plummer's identity somewhere between that mythology and the few known facts of his actual existence.
Ashley Hope takes a forensic approach with mixed-medium works that picture people who have been reported as missing to the police. Caught on low-res surveillance video, the last recorded image of the person is burned onto a wood panel; fragments of patterns and abstract "glitches" painted atop it subtly rupture the coherence of the image. Like an investigation that goes cold, these works remind us that evidence is not always synonymous with understanding.
"Missing" assumes a different connotation in Ira Sachs's elegiac film Last Address, which comprises present-day shots of the facades of the last residential addresses of artists who died of HIV-related causes during the AIDS crisis. These artists' premature deaths can be seen as a form of abduction: They were taken from us. In Sachs's film, wind tosses the canopies of trees and people on the street go about their daily business, recalling Auden's poem "Musee de Beaux Arts": Everything turns away quite leisurely from the disaster . . . a boy falling out of the sky.
Ryoichi Nakamura's A Study of Identity embodies the meaning of dissonance with hundreds of postcard-sized, photo-based portraits of Japanese Americans who were sent to U.S. internment camps during World War II (a selection of which are featured here). Despite being citizens and living their lives as fully American, these individuals were viewed by the government as a foreign threat, forcibly removed from their homes, and incarcerated in camps in which nearly two thousand people perished. Printed on copper and aluminum, each of Nakamura's images has been scarred, scored, painted over, or otherwise altered to suggest the myriad ways systemic racism has worked as a form of erasure.
In his poem "Walking to Sleep," Richard Wilbur wrote: Try to remember this: What you project is what you will perceive. For centuries, portraiture has largely been driven by our human desire to make what is fleeting permanent, to regain something lost, or to understand something that remains out of reach. The works in this show do something different, approaching their subject matter from an oblique angle and intentionally leaving those questions open. They seek, track, and trace their subjects, but they never promise more than a fragment of a broader, more opaque picture. Functioning as a kind of "anti-portraiture," they dwell in the space between what it means to disappear and what it means to never quite be found.
Based in Houston, Texas, Ashley Hope is currently the 2019 Artist in Residence at the award-winning West Houston Institute Makerspace. Her work has been shown internationally and reviewed in publications including Art in America, Art+Auction, ArtReview, Esquire, and La Nouvelle Ane. Tokyo-based Ryoichi Nakamura has exhibited internationally in cities such as New York, Berlin, Tokyo, Taipei, and Kaohsiung. His A Study of Identity is included in the Bill & Melinda Gates Foundation collection. The films of New York–based Ira Sachs include Little Men, Love Is Strange, Keep the Lights On, and Forty Shades of Blue, which won the 2005 Sundance Dramatic Grand Jury Prize. His Last Address is included in the permanent collections of the Whitney Museum and MoMA. Photographer Amani Willett, based in Brooklyn and Boston, has published two monographs, Disquiet and The Disappearance of Joseph Plummer, both selected by Photo-Eye as "best books" of the year. His work resides in the collections of the Tate Modern and the Museum of Fine Arts, Houston, among others, and has appeared in publications including American Photography, Newsweek, Harper's, the Huffington Post, the New York Times, and the New York Review of Books.
CURATED BY
CASEY RUBLE
Artist in Residence, Fordham University
Ruble's anti-potraiture show Red Summer, her fourth solo show at Foley Gallery, is on view from May 15 to June 23
Ildiko Butler Gallery, 113 W 60th Street, New York, NY
Gallery hours: 9–9
For more information, contact Casey Ruble at caseyruble@gmail.com