Sous les paves, the Beach! an Urbanism Classroom "Fordham Square"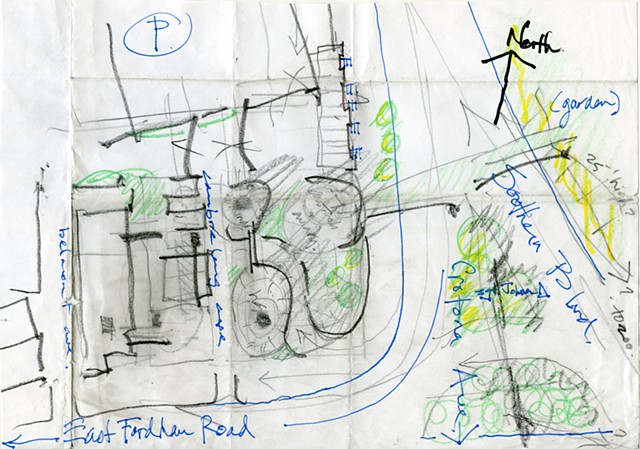 "Desk crit sketch by Prof. Cathcart on Bala Strivistava's St. Francis Vet School project, April 2017. pencil, marker, pen & highlighter on 11" x 17" original, trimmed & folded (detail)."
Sous les paves, the Beach!
an Urbanism Classroom
"Fordham Square"
Nov 4th – Dec 3rd
The Lipani Gallery
Fordham College Lincoln Center
113 W 60th Street, NYC NY 10023
Presented in this exhibition is work by students and faculty over the last few years in the fields of urban, architectural, landscape, and interior design. Projects include:
A Seminar Room of black, chrome & glass furnishings: collections of FU TDAR & Grinker Cathcart
Koreatown Mini-Hotel: the senior project of Sean Rowden, BA AIAS (FCRH'14 Urban Studies; Sean was the 2nd president of FuAIAS).
Fordham Square, UWS NYC, Alex Truica AIAS MArch (Pratt exp'17), Liz Davis AIAS, Bala Strivistava AIAS, Julie Norris, Claire Mardian AIAS BA FCLC'16 (Claire was the 4th secretary of FuAIAS), Shay xxx AIAS, Ari AIAS, etc.
Solar II at Stuyvesant Cove, Manhattan (2001- 2017) by Colin Murray Cathcart AIA et al;
Tower models designed and made by students of VART 2050 – Architectural Design
Urban comparisons and observations by URST 5040 – Urbanism. Spring of 2017 Fordham Lincoln Center.
Waterfront Post Sandy (2009 – 2015) Prof. Denisha Williams, her students and colleagues.
Women Urbanists: gallery labels by students of VART 2070 – Architectural Design, including one by Brianna Providence AIAS, BA (exp May 2017. Brianna was the 4th president of FuAIAS).